Do you need help with the issues that cause you stress?
Call for appointment:
770 442 9100
Office & Contact info
>>
List of services
>>
Qualifications as psychotherapist and hypnotist
>>
---
In Our Store
Pathways The Light Within III: Guided Pathways to the Soul
By Pat Jones & Steve Hulse
View Details and Listen to Sample
>>
Reinvent your career NOW...and lead it through difficult times
. By John P. Schreitmueller & Pat Jones.
View Details
>>
Patricia Jones, PMCCNS-BC
---
Psychotherapist and Hypnotist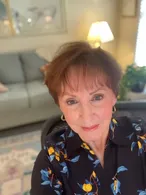 Pat Jones, PMHCNS-BC has been in private practice as a psychotherapist for over 20 years in the Atlanta and Alpharetta/North Fulton areas. Her expertise is in the area of
adult psychotherapy
and couples therapy. She is also a
hypnotist
who does hypnotherapy for a variety of problems including weight reduction and smoking cessation.
She has extensive experience in the areas of stress management, addiction and co-dependency. She has presented programs on
stress management
to medical students, nurses, school teachers and civic organizations.
She is also a partner in the
Resolute Consulting Group
working in the area of Family Businesses.
Pat Jones, with Jerry Mabe, executive coach with Right Path Consulting, has joined in the establishment of
Leadership Crisis Solutions
to provide assistance to Leaders in Crisis situations.
Credentials:
I am a Clinical Nurse Specialist in Adult Psychiatric and Mental Health. This is a Board Certified State Licensed position. The letters after my name are PMHCNS-BC Psychiatric Mental Health Clinical Nurse Specialist-Board Certified. With this criteria I am licensed as a psychotherapist. I have a Diploma (3 years) from Scott and White Memorial Hospital School of Professional Nursing in Temple, Texas. I have a BSN (2 years) from Georgia State University and a MS (ones year plus post graduate work) (Nursing, Psychiatric/Mental Health) from Georgia State University.
Qualifications as psychotherapist & hypnotherapist
...
"I don't know what would have happened to me if I had not met her."
--Elizabeth
Testimonials
Behavioral Medicine Associates
For more detailed, in depth information regarding Addiction, go to
www.BMA-Wellness.com
. There you will find more treatment options, alternatives, and recommendations as well as the opportunity to participate in the New Psychiatrist Forum with Dr. Floyd P. Garrett. We welcome your feedback.